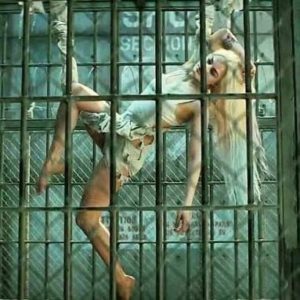 You know that scene from Suicide Squad where Harley Quinn is just hanging around and swinging behind her prison bars.  Too content with the madness that made her Harley Quinn the madness being The Joker.
While she is swinging, fixated in her own world there is a song playing in the background.  An all to familiar song but most of us know from a scene in Dirty Dancing, we have danced to it, probably sang to it a million times and never  meant anything just that song in a 80's classic movie.
However, this rendition of the song that Harley Quinn swings to, you can feel the words and the tune pulsating through your veins and it changes the entire story line of the song.  One song, two movies and two very different meanings…
This version of You Don't Own Me the original version spoke more to me then the version I heard watching Dirty Dancing 30+ years ago.  Then it was oooh Patrick Swayze in all his glory and the love story unfolding between him and Jennifer Grey.  Up beat and foot tapping, fun at parties and fun to sing along to.
Que Lesley Gore and Suicide Squad and the song speaks differently, the words now have meaning and suddenly you realise this song is about you.
No one should have the right to treat someone they love like they own them.  Exactly like the song says
"don't tell me what to do and don't tell me what to say, please when I go out with you don't put me on display"
"I'm young and I love to be young, I'm free and I love to be free.  To live my life the way I want, to say and do whatever I please ". I know these words so well I didn't even have to look up the lyrics.
This has pretty much been a fact in my marriages and relationships.  I allowed him to own me to disrespect me and treat me like a toy because I never said I disagreed with it.  In truth I never actually knew it was wrong until meeting someone recently and them not having a hold over me and letting me do whatever I wanted.  I thought there was something wrong with this person and couldn't understand why they didn't care or love me enough but they did it was just a different love.   Freedom and respect and honesty.   He trusts me and let's me think for myself and do for myself which is very different to what I'm use to.
So now I realised I like this feeling, I like feeling free and I like that I finally found what I been looking for and what  love means to me.
XXX
Ok here are the lyrics:
You don't own me
You don't own me
Woah, let's go
But I'm Gerald and I can always have just what I want
She's that baddest I would love to flaunt
Take her shopping, you know Yves Saint Laurent
But nope, she ain't with it though
All because she got her own dough
Boss bossed if you don't know
She could never ever be a broke ho
You don't own me
I'm not just one of your many toys
You don't own me
Don't say I can't go with other boys
Don't tell me what to do
And don't tell me what to say
Please, when I go out with you
Don't put me on display
You don't own me
Don't try to change me in any way
You don't own me
Don't tie me down 'cause I'd never stay
Don't tell me what to do
And don't tell me what to say
Please, when I go out with you
Don't put me on display
R-r-r-really though, honestly
I get bored of basic bitches
She's the baddest, straight up vicious, texting her asking her
If she's alone and if she'd sent some pictures, she said no (what)
Well goddamn, she said come over and see it for yourself
Never asking for your help, independent woman
She ain't for the shelf
No, she's the one
Smoke with her till the weed is gone
Stayin' up until we see the sun
Baddest ever, I swear she do it better than I've ever seen it done
Never borrow, she ain't ever loan
That's when she told me she ain't never ever ever ever gonna be owned
I don't tell you what to say
I don't tell you what to do
So just let me be myself
That's all I ask of you
I'm young and I love to be young
I'm free and I love to be free
To live my life the way I want
To say and do whatever I please
Hey hey (you don't own me) oh, no